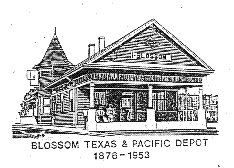 Blossom Museum, Lamar County, TX
The Blossom Museum and Civic Center is located at 215 Pine Street in Blossom, Texas. Turn south off Highway 82 onto Faucett Street. Go one block. Turn left on Pine Street. Museum is located on the left.
The Museum is open on Friday's from 10:00 a.m. to 3:00 p.m. Tours may be arranged for groups by appointment. The numbers to call to make an appointment for a group tour are 903-982-6792 on Fridays, and 903-982-5497, 903-982-5312, 903-982-5591 or 903-982-5399 on other days.
The Museum operates on monetary gifts and sales of postcards and greeting cards.
Start making plans for the Blossom Homecoming on Labor Day week-end in 1998!
History of Blossom
In the early 1800's, Northeast Texas became a gateway for incoming settlers for many years. Such famous persons as David Crockett and Sam Houston entered Texas at this point. Although the exact date that families started arriving in Blossom Prairie is not known, we do know that William B. Patton, nephew of Davy Crockett, crossed Red River into Blossom Prairie, in November 1836. Ben Dragoo, a Texas Ranger during the late 1800's, came to Blossom in 1838, when he was 3 years old.
By 1873, The Texas & Pacific roadbed had been graded, but the laying of steel was stopped. For three years the gap between Texarkana and Brookston remained. Freight was transported in wagons over the gap, passing through Blossom. Later, a Depot was built on the south side of Front Street to accomodate travelers and freight.
On January 8, 1886, the town of Blossom Prairie became incorporated. Blossom Prairie Academy had been established two years earlier in 1884 and Lamar College was established ca. 1889, so Blossom Prairie was the place to send your child to school in those early years. John Nance Garner attended school in Blossom and later became Vice President of the U.S. serving under President Franklin Roosevelt.
In its heyday, Blossom was famous for its mineral wells, which numbered around one hundred. The water was of such a good quality, because of the many different minerals it contained, that it was advertised widely as a cure- all for various diseases. A bathhouse was built for people to bathe, in the "healing water". People came from short and long distances to utilize the bathhouse or just to drink some of the water that they believed would make them healthier.
Hotels sprang up to accomodate these visitors to Blossom. Hotels of the time were The Burke, Sharp, Guthrie & Lamar. The bottom story of the Burke Hotel still remains and is now a private residence.
The hotels were also convenient for the 'drummers," or salesmen that came to Blossom to sell their wares. These enterprising visitors to Blossom rented buggies and horses from the local livery stables and drove to all the outlying areas and took orders for their merchandise. The supplies were then sent by train to the Blossom Depot and merchants came to the freight office to pick it up.
Blossom had several mercantile stores, some of them being quite large, dealing in items such as clothes, groceries, furniture, hardware, buggies, wagons, and even caskets. It was stated at the time that some of these stores could provide a person with everything they needed from the beginning to the end of their life.
Several of the businesses in Blossom that were here in the early years were constructed from brick that was manufactured at the two brick plants in the town. One of the buildings built from" Blossom brick" is still standing and currently houses a hardware store. The two story structure was built originally to be used as a bank, with a telephone office being located on the second floor. In later years, it served as a post office.
By 1903, Blossom had one bank, and by 1910, a second one was established. BY 1919, there were three banks in this now prosperous town. Beautiful homes, some of them two story, were built by the more affluent citizens of Blossom Prairie. A few of these houses are stillstanding. A historical marker has been placed on one of the homes.
Blossom was fortunate to have several medical doctors, Drs. J.S. Marshall, Patton, Beauchamp, Black, Skidmore, Rush, Moody, Thompson, Martin and Lenoir.
On the blackland prairie, south of town, where the dirt was black and waxy, cotton was grown. The grade was extra good staple. Cotton wagons lined the yards of the two gins, waiting their turn to have their cotton ginned and packed into bales. People from Blossom and surrounding areas worked side by side in the cotton fields, picking the fluffy cotton from the bells, and depositing it in cotton sacks that trailed behind them. The sacks often weighed as much as fifty or more pounds on the cotton scales when they were full of cotton. Sometimes the cotton was picked while it was still in the bolls. This was called "pulling bolls."
On the north side of Blossom, where deep rich sand abounded, a different type of farming was taking place. Tomatoes, watermelons, cucumbers and corn were grown here. These were referred to as "truck crops." Sheds were built where the tomatoes and cucumbers could be graded and sent to other locations for distribution. One of the tomato sheds is still standing, and is being used as a produce stand. Although "truck crops" were not grown in as large a quantity as was the cotton on the south side of town, it was none-the-less as tiring a job as was the farming of cotton.
The banks, hotels, mercantile businesses, livery stables, brick plants, bathhouse, colleges, gins, railroad depot, mineral wells (except for one, located in the City Park), doctors, and most of the beautiful homes have long since disappeared from the landscape of Blossom, but this little city refuses to forget its wonderful past.
The citizens living here now, as well as former residents have pulled together to build a Museum. In the Museum are stored small mementoes, pictures, and writings of those glorious years, when Blossom was in its infancy and on to the time until it became a prosperous town. Small items that were used by friends and relatives that lived in Blossom Prairie, or that were typical of the times, are housed in cases for everyone to enjoy.